What started out as a teensy post to say, "Hey, let's go see some theater this holiday season," turned into a massive list of shows. You'll find new shows and old favorites here. (Feeling Grinchy? Check out our next post for non-holiday-themed shows.)
New Shows for Your Holiday Enjoyment:
A Christmas Story, The Musical
- Ordway Center
November 29-December 28, 2014
Why It's On MY Xmas List:
Because it's an Ordway-produced production directed by James A. Rocco that features a cast of utterly fabulous local talent including (but not limited to): Gary Briggle, Dieter Bierbrauer, Erin Schwab, Jennifer Eckes, Michael Gruber, Suzie Juul, Aja Parham, Kersten Rodau, Randy Schmeling, Austene Van and Tony Vierling. Need I say more?
The Chanukah Guest
- Minnesota Jewish Theatre
December 4-21, 2014
"MJTC's new commission and world premiere,The Chanukah Guest, is the perfect way to celebrate the holiday season with your family. This interactive, heartwarming play tells the story of Bubba Brayna, who is renowned throughout the village for making the best potato latkes every Chanukah." (
mnjewishtheatre.org
)
Christmas in Niatirb
- Open Window Theatre
December 5-28, 2014
"An astute and humorous look at the traditions of "Exmas" and "Chrissmas" through the lives of the fictional inhabitants of the island of Niatirb (Britain spelled backwards). This full-length theatrical adaptation of a little-known Christmas essay by C.S. Lewis brings out the full wit, charm, and inspiring self-examination that so characterizes his writing and creative genius." (
openwindowtheatre.org
)
The Hothouse
- Dark & Stormy Productions (presented in the atrium of the 1906 Grain Belt Bottling House)
December 10, 2014-January 4, 2015
Why It's On MY Xmas List:
That cast and a very intriguing location.
Starring Robert Dorfman, Mark Benninghofen, John Catron, Sara Marsh, Bill McCallum, and Bruce Bohne, this "clever and cutting Pinter piece exposes the underbelly of the hierarchical power structure at an ambiguous institution – which is at once functional and falling apart – on one fateful Christmas Day." (
darkstormy.org
)
November 11-January 4, 2015
"Whoville is experiencing a seemingly unstoppable crime wave—and who oh who will save Christmas? CTC's Technicolor, maxed-out musical brings alive the songs, the story, and the Seuss in megadoses of spirited storytelling and fanciful rhymes." (
childrenstheatre.org
)
A Christmas Carol
- Guthrie Theater
November 13-December 28, 2014
"This year marks the 40th annual production of Charles Dickens' A Christmas Carol, the perennial favorite that received a new adaptation by Crispin Whittell in 2010 and continues the Guthrie's holiday tradition for families across the region." (
guthrietheater.org
)
Irving Berlin's White Christmas
- Orpheum Theatre
November 25-30, 2014"
"Tells the story of two buddies putting on a show in a magical Vermont inn and finding their perfect mates in the process. Full of dancing, laughter and some of the greatest songs ever written." (
hennepintheatretrust.org
) (Equity tour)
God Rest Ye Scary Gentlemen III
- Hardcover Theater at Bryant-Lake Bowl
November 28-December 22, 2014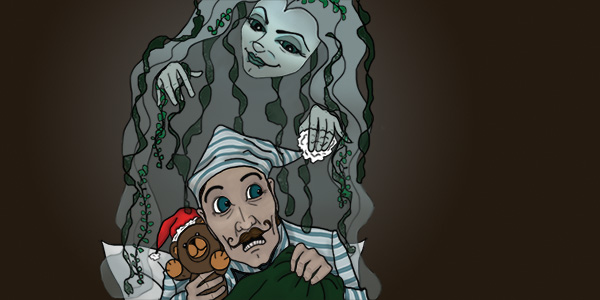 Why It's On MY Xmas List:
I love Hardcover Theater and ghosts. There you are.
"What's Christmas without a few ghosts? Dead folks get up to all kinds of mischief in this third installment of Hardcover Theater's successful series, featuring three new stories of holiday hauntings." (
bryantlakebowl.com
)
A Very Asian Christmas Concert -
Mu Performing Arts at the Southern Theater
November 29-30, 2014
Why It's On MY Xmas List:
Hosted by Randy Reyes and featuring a ton of great performers, I can't believe I've missed this in the past.
"Santa's hitting the bottle again, and Jasmine is down in the dumps. The only thing that will cheer her up is singing, dancing, and laughing the night away with her talented friends and family members." (
muperformingarts.org
)
Black Nativity
- Penumbra Theatre
December 4-21, 2014
Why It's On MY Xmas List:
Having worked at the Fitzgerald Theater for many years, Black Nativity was always a part of my holidays. I'll never forget the amazing performances and joyful songs--especially T. Mychael Rambo as the preacher. I love that they keep shaking up this classic, but always have amazing music. Revisits "the nativity story in this concert staging, featuring narration by Lou Bellamy, soloists Yolande Bruce, Greta Oglesby, Dennis W. Spears and with the Fellowship Missionary Baptist Church Choir under the musical direction of Sanford Moore." (
penumbratheatre.org
)
The Longest Night
- Open Eye Theatre
December 11-21, 2014
Why It's On MY Xmas List:
I'd happily watch Bradley Greenwald read the phone book, or sing the stock reports.
"Bradley Greenwald celebrates winter, the holidays and "hell-idays," seasonal affective disorder, friends, family, Christians and Pagans with pianist Sonja Thompson." (
openeyetheatre.org
)
La Natividad
- In the Heart of the Beast Puppet and Mask Theatre
December 11-21, 2014
Why It's On MY Xmas List:
I love the idea of the procession through the city--a truly unique tradition (for Minnesotans!).
"This unique event honors the Mexican tradition of La Posada, leading everyone on a journey to four sites in our community. Enacted with beauty, humor, soulful live music, and an ending feast. (Performed in English and Spanish)" (
hobt.org
)
All Is Calm: The Christmas Truce of 1914
- Theater Latte Da at the Pantages
December 17-21, 2014
"The Western Front, Christmas, 1914. Out of the violence comes a silence, then a song. A German soldier steps into No Man's Land singing Stille Nacht. Thus begins an extraordinary night of camaraderie, music, peace. A remarkable true story, told in the words and songs of the men who lived it." (
theaterlatteda.org
)